God's Work. Our Hands. Sunday in South Dakota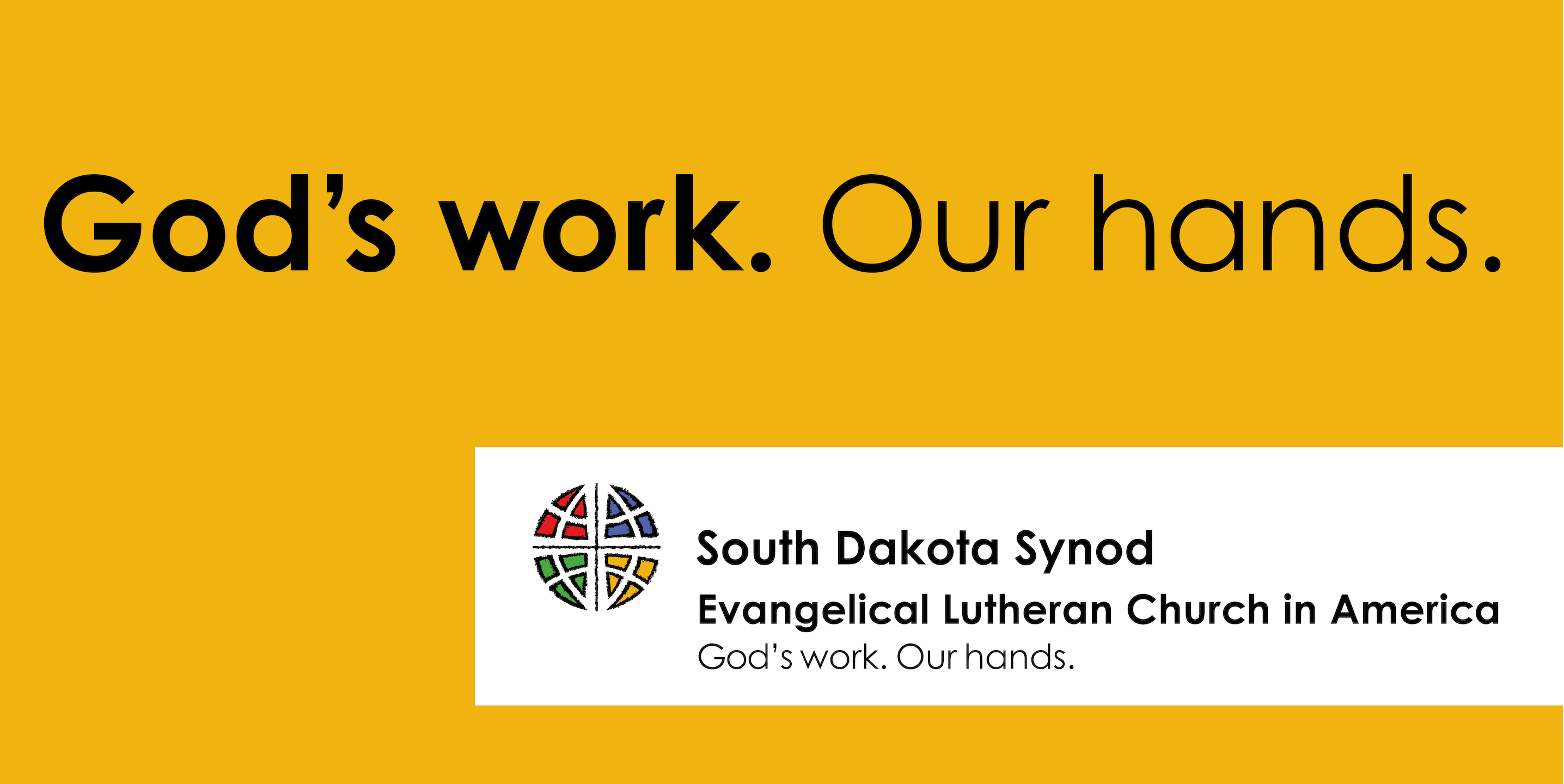 On Sunday, Sept. 13, congregations will observe "God's work. Our hands." Sunday. This year our church — and our world — are living through the COVID-19 pandemic. Physical distancing has changed the way we worship and serve. But the need is great, and God's church is at work. In this resource — an addendum to the "God's work. Our hands." Sunday Toolkit — you'll find service project ideas and considerations for safely supporting your community in the time of a pandemic.
The South Dakota Synod has put together a list of partner ministries, along with their wishlists, for this year. Please consider supporting one of these vital ministries during this time.
Acts of service can happen anywhere: you might contribute to an online project from your home or volunteer in person keeping a safe physical distance and wearing a mask. We encourage you to plan your day of service in compliance with local health guidelines. The safety and well-being of your volunteers and those you serve is a top priority. Follow all local guidance regarding physical distancing, mask-wearing, maximum gathering size and building capacity limits. As church, we are guided by our life in Christ to share the love of Jesus and serve our neighbors — even if such acts of service look different this year.
Lutherans Outdoors in South Dakota
Outlaw Ranch
Forever Stamps
Sandbox Toys
Rubbermaid Garbage Can
Copier Paper
Batteries
Barbed Wire Fencing
Nesodak
Forever Stamps
9-Volt, AA, AAA Batteries
Copier Paper
Brooms & Dustpans
Dehumidifiers
Toilet Bowl Cleaner & Bleach
All Purpose Cleaner
Paper Towels
Joy Ranch
Archery Arrows- Genesis Brand
Queen Size Comforters & Linens- Neutral colors
Shower Curtains & Liners- 40 total needed
Runnings Gift Cards for horse feed
Playground Equipment- balls, nets, etc.
Office Supplies- copier paper, pens, etc.
Bathroom Towel Sets- white in color
NEW Standard/Queen size pillows
Klein Ranch
Large Square Hay Bales
Horse Riding Helmets
12 – 4″ X 8′ Wooden Pointed Fence Posts
12 – 6′ Steel T-posts
4 Barbed-roll of Barbed Wire
New or Used Flatbed
Copier Paper
Split-rail Fencing
Lutheran Social Services of South Dakota
Church on the Street in Sioux Falls
Church on the Street is actively doing ministry. We are being as careful as we can. Please pray for those who do not have the privilege of social distancing. The 2021 Ministry Partner for Worship Calendar is now live and Mission Partner Covenants are being delivered this week via email. Please email with your interested month. Thank you for your great support #ItIsGreatToBeChurchTogether
Contact Rebel Hurd at rebel@churchonthestreetsf.org to arrange pick-up/delivery or to get involved.
Laundry With Love
For an update on Laundry with Love and/or to sign up to volunteer, please click on the link below.
Ministry Needs
Crossroads gift cards for ministry supplies
Backpacks (full size)- new or gently used
meat sticks
protein bars
pop tarts
squeeze applesauce
instant coffee packets
cocoa packets
Disposable coffee cups with black lids
underwear of all sizes (child-adult)
full size shampoo and conditioner
Full size towels
handwarmers
small/travel umbrellas
Tide Pods (or any brand)
Fabric Softener Sheets
Quarters
Bleach
sandwich baggies
Square Post-it Notes (For Laundry with Love)
LuMin The Hills
Sept, Jan, & Feb are our month to stock the food shelf at SDSMT – we will gladly take donations of non-perishable food items to keep the shelf full!
Contact Rachel with questions or concerns: 
Rachel@LuMinTheHills.org
605-646-3241
NSU Campus Ministry
Collegians in Christ's Service (CICS) Lutheran campus ministry at Northern State University would like to thank the Synod and Congregations for their support.  Specifically those congregations in the Northern Plains and Prairie Coteau conferences.  Annually CICS receives financial support and donations from membership dues and WELCA programs.  This financial support provides us with what we need for staffing, insurance, and program needs.  Because of those annual gifts we are without significant need and able to focus on growing and thriving in our ministry.  With our whole heart we thank you and ask you to keep campus ministry a part of your congregational mission and pray for us this school year as we keep Christ centered in our lives as we live week by week adapting and changing in this world.
Peace to you all,
Ann Fortin
CICS Director
latrkfortin@gmail.com