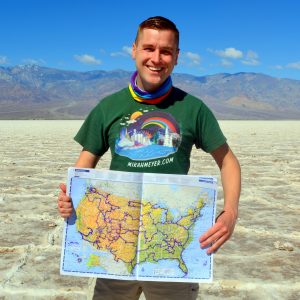 Thirty-five years after Larry Meyer began as campus minister at South Dakota State University, and 32 years after his son Mikah was born, Mikah Meyer returns to South Dakota as part of his world record road trip to all 417 National Park Service sites.
As seen on The Today Show, Mikah is currently becoming the youngest person to experience every unit of the National Park System. Inspired by his father's passing, Mikah is using the journey to share a message of carpe diem, and using the publicity to spread a message of hope and acceptance for LGBT people and LGBT Christians. To keep this ministry going, he "sings for his supper" at churches across the US and receives donations to fuel him to the next park.
Come hear him speak at sing at Ascension Lutheran – Brookings and Our Savior's Lutheran, Sioux Falls for his FIRST appearances in the Lower 48 after returning (driving from) Alaska's 23 parks.
Upcoming Events:
About Mikah Meyer
As featured by NPR, the Washington Post, and The Today Show, South Dakota-born world record adventurer Mikah Meyer is visiting Brookings and Sioux Falls as part of his journey becoming the youngest person to visit all 417 National Park Service sites. Meyer's journey is honoring former SDSU Lutheran Campus Minister (1983-1989) Larry Meyer's passing from cancer, and will reach South Dakota on Sep. 16th having completed 357 of the 417 NPS sites. Mikah will perform twice publicly, sharing about his journey and its support for fellow LGBT Americans and LGBT Christians.