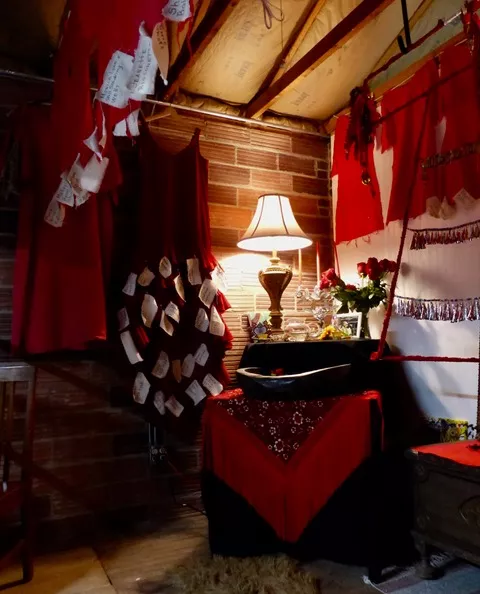 40 Day Journey with Our Neighbors in Solidarity
Week 5: First Nations – Missing & Murdered Indigenous Relatives (MMIR)
Written By: Rev. Jonathan Steiner, Director for Evangelical Mission and Associate to the Bishop
Matthew 18:10-14
The Parable of the Lost Sheep
10 "Take care that you do not despise one of these little ones; for, I tell you, in heaven their angels continually see the face of my Father in heaven. 12 What do you think? If a shepherd has a hundred sheep, and one of them has gone astray, does he not leave the ninety-nine on the mountains and go in search of the one that went astray? 13 And if he finds it, truly I tell you, he rejoices over it more than over the ninety-nine that never went astray. 14 So it is not the will of your Father in heaven that one of these little ones should be lost.
There is a bookstore in Rapid City that displays 83 red dresses.
South Dakota faces an epidemic, one that many of us in the dominant culture are unaware of.  Each of those 83 red dresses represents an indigenous woman or child who has gone missing or has been murdered in our state.  83 of God's beloved sheep who have been lost.
I have no words.  I can barely imagine the pain of our native siblings, as they grieve their loved ones.
We have been asked to help.  The Red Ribbon Skirt Society, whose goal is to spread awareness about Missing & Murdered Indigenous Women, Children, and Two Spirit (MMIWC2S), has asked us at the South Dakota Synod to pray for these people.  We have been asked to pray for the lost ones, to pray for the families as they grieve, to pray for the communities that have been broken by violence.
I have no words, but my heart aches for my neighbor.  God calls us to seek every lost sheep, and 83 are far too many.
Prayer: Holy God, send your healing Holy Spirit.  Send it to those who have gone missing, to those who grieve, and to our indigenous communities as they wrestle with this violence.  Open our eyes and our hearts, so that we may end this hurt.
Learn more:  You can visit the Red Ribbon Skirt Society to learn more here:  www.shamusproject.com/red-ribbon-skirt-society