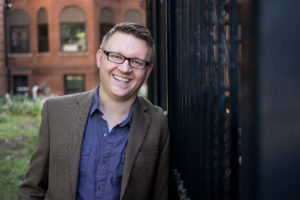 PIERRE, SD — Andrew Root, PhD will be the guest theologian at the annual Fall Theological Conference September 22-24 in Pierre, SD. Dr. Root, a professor of Youth and Family at Luther Seminary, will present on "Faith in a Secular Age".
Registration for this year's conference is now open with a deadline of September 6.
About Andrew Root, PhD
Andrew Root, PhD (Princeton Theological Seminary) is the Carrie Olson Baalson Professor of Youth and Family Ministry at Luther Seminary. He is most recently the author of Exploding Dinosaurs, Dead Dinosaurs, and Zombies: Youth Ministry in the Age of Science (Fortress Press, 2018), Faith Formation in a Secular Age (Baker, 2017), and The Grace of Dogs: A Boy a Black Lab and Father's Search for the Canine Soul (Convergent, 2017).  He has also authored Christopraxis: A Practical Theology of the Cross (Fortress, 2014) and Bonhoeffer as Youth Worker (Baker, 2014).  Root puts together theology and storytelling to explore how ministry leads us into encounter with divine action.  His book  The Relational Pastor (IVP, 2013) as well as a four book series with Zondervan called A Theological Journey Through Youth Ministry (titles include Taking Theology to Youth Ministry, Taking the Cross to Youth Ministry, Unpacking Scripture in Youth Ministry, and Unlocking Mission and Eschatology in Youth Ministry) break new ground in this direction.  In 2012  his book The Theological Turn in Youth Ministry (with Kenda Creasy Dean, IVP, 2011) was Christianity Today Book of Merit.  He has written a number of other books on ministry and theology such as The Children of Divorce: The Loss of Family as the Loss of Being (Baker Academic, 2010), The Promise of Despair (Abingdon, 2010), Revisiting Relational Youth Ministry: From a Strategy of Influence to a Theology of Incarnation (IVP, 2007) and Relationships Unfiltered (Zondervan/YS, 2009).  Andy has worked in congregations, parachurch ministries, and social service programs. He lives in St. Paul with his wife Kara, two children, Owen and Maisy, and their dog. When not reading, writing, or teaching, Andy spends far too much time watching TV and movies.
Register by September 6, 2019 at 5 PM CT
Cost:
Rostered Ministers/Lay Staff – $110
Interns/Retired Rostered Ministers – $80
Lodging:
Clubhouse in Pierre
800 West Sioux Ave.
Pierre, SD 57501
Cost for a block of rooms under "South Dakota Synod"

Queen $139.00

Queen Deluxe $144.00

King Room $149.00

One Room Suite $149.00

Reserve rooms by August 22nd
Each registrant is responsible for making lodging arrangements
Call 605-494-2582
Schedule
Sunday, September 22 
6:30 PM – Registration at Lutheran Memorial
7:00 PM – Evening Devotions
7:30 PM – Session I
8:30 PM – 10:30 PM – Evening Gathering at Ramkota Lounge
Monday, September 23
9:00 AM – Opening Prayer at Lutheran Memorial
Session II Begins
10:00 AM – Coffee Break
12:00 PM – Bishop's Hour and Q&A – Get to Know Bishop Constanze Hagmaier
1:00 PM – Free-Time
5:30 PM – Social Hour at Drifters
6:30 PM – Meal at Drifters
8:00 PM – Q&A
Tuesday, September 24
9:00 AM – Session IV at Lutheran Memorial
10:30 AM – Sending Worship