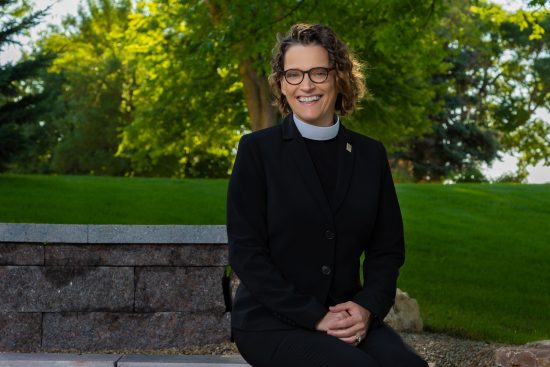 SIOUX FALLS, SD – September 4, 2019 – The Reverend Constanze Hagmaier will be installed as the fourth Bishop of the South Dakota Synod of the Evangelical Lutheran Church this Saturday, September 7 at 1:30 PM at Gloria Dei Lutheran Church in Sioux Falls.
The Reverend Hagmaier was elected to the Office of Bishop on June 1, 2019 at the South Dakota Synod Assembly. Hagmaier was one of 13 new bishops elected by synod assemblies earlier this summer. Of those elections, 8 seats went to women, which marks a record for the ELCA.
Hagmaier officially succeeded Bishop David B. Zellmer earlier this week on September 1. Zellmer was in office for twelve years. September 1, also marks a significant anniversary for Hagmaier. It was on this day, 20 years ago, when she and her husband, the Reverend Dirk Hagmaier, immigrated to the United States from Germany. She states:
"As I pause to ponder my past as an individual, my family, my past country of origin, and my present and future of my now naturalized home country, I give thanks and pray that God continues to grant me the courage and fearlessness he washed over me in baptismal waters. Thanks be to God!"
Special guests at the Installation Service include the Presiding Bishop of the ELCA, the Reverend Elizabeth Eaton. Bishop Eaton will preside over the installation. The Reverend Dr. Anna Madsen will be the guest preacher.
The public is invited to attend this celebratory service at Gloria Dei. Doors open at 12:30 PM. This event is free and does not require a ticket; however, an RSVP at sdsynod.org/installation is encouraged.
About the South Dakota Synod
The South Dakota Synod is one of 65 synods of the Evangelical Lutheran Church in America (ELCA). With over 200 congregations and 100,000 members, the vision of the South Dakota Synod is that all may be fed. For more information, visit www.sdsynod.org.
About the Evangelical Lutheran Church in America:
The ELCA is one of the largest Christian denominations in the United States, with nearly 3.5 million members in more than 9,100 worshiping communities across the 50 states and in the Caribbean region. Known as the church of "God's work. Our hands.," the ELCA emphasizes the saving grace of God through faith in Jesus Christ, unity among Christians and service in the world. The ELCA's roots are in the writings of the German church reformer Martin Luther.