Spring Theological Retreat with Rev. Dr. Timothy Wengert
Registration is now open for the 2019 Spring Theological Retreat with the Rev. Dr. Timothy Wengert. Wengert will be in Aberdeen, SD April 23-25, 2019 for the annual spring retreat. This year's retreat is hosted by the Northern Plains Conference at all three ELCA Congregations in Aberdeen.
About the Speaker
True Confessions: How the Augsburg Confession Enlivens the Life of Your Parish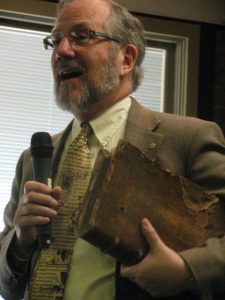 Timothy J. Wengert is the Ministerium of Pennsylvania emeritus professor of Church History at the Lutheran Theological Seminary at Philadelphia.  A parish pastor for seven years in Minnesota and Wisconsin, he received his doctorate from Duke University (Durham, North Carolina, USA) in 1984 and taught on Philadelphia's faculty from 1989-2013.  He has written extensively on the Reformation, was co-editor of the English edition of The Book of Concord (Fortress, 2000) and translated Luther's Small Catechism, widely used throughout the Evangelical Lutheran Church in America.  In addition to several books on Philip Melanchthon and Martin Luther, he recently published a study of early Lutheran disputes over justification (Mohr Siebeck, 2012). He is general editor of The Dictionary of Luther and the Lutheran Traditions (Baker, 2017).  He also co-authored (with Susan Wood) a book on Lutheran/Roman Catholic relations, Shared Spiritual Journey (Paulist, 2016) and edited the first volume of The Annotated Luther, from which his translation of the 95 Theses has also appeared separately (Fortress, 2015).  He currently serves on the U.S. Lutheran/Roman Catholic dialogue.