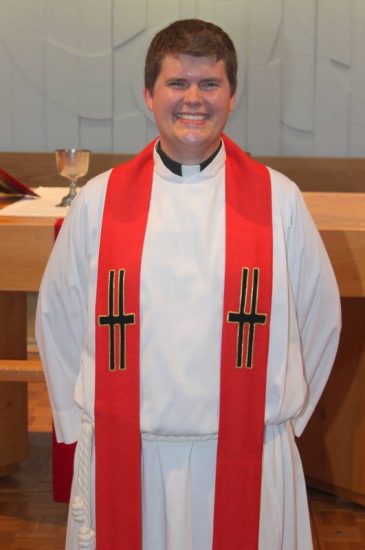 SIOUX FALLS, SD – September 17, 2019 – The Rev. Jonathan Steiner has accepted the offer from the Domestic Mission Unit of the ELCA to serve as the new Director for Evangelical Mission and Associate to Bishop Hagmaier for Stewardship and Outreach.
"It is with great joy and delight, that I would like to introduce my associate for stewardship, evangelical outreach, and your Director for Evangelical Mission, the Rev. Jonathan Steiner" stated Bishop Constanze Hagmaier. "He will be deployed synod staff residing in Rapid City. Please welcome Pastor Jonathan to your synod staff."
Pastor Jonathan has been serving in the Black Hills since the fall of 2014. Following seminary at the Lutheran Theological Seminary at Philadelphia, he was called to Atonement Lutheran Church in Rapid City.  After a year and a half, a nearby colleague died suddenly, and Pastor Jonathan was asked to serve as the Vice Pastor at Piedmont Valley Lutheran Church. When six months had passed, Pastor Jonathan cast a vision for shared ministry between the two congregations, and they partnered to become the Graceful Hills Parish, where he currently serves.
Centered on God's grace and promises for all people, Pastor Jonathan brings creativity, team-building, and energy to ministry. He has served on the Fall Theological Planning Committee and the Evangelical Outreach Committee for the synod, and has worked as a leader in the Bear Butte Conference since arriving in South Dakota. Pastor Jonathan believes we flourish as a church when we work together, when we are led by the Spirit of joy, and because of what Christ has done for us.
Pastor Jonathan is excited to get to work with the people of South Dakota starting on October 1. His new email is jsteiner@sdsynod.org.
About the South Dakota Synod
The South Dakota Synod is one of 65 synods of the Evangelical Lutheran Church in America (ELCA). With over 200 congregations and 100,000 members, the vision of the South Dakota Synod is that all may be fed. For more information, visit www.sdsynod.org.
About the Evangelical Lutheran Church in America:
The ELCA is one of the largest Christian denominations in the United States, with nearly 3.5 million members in more than 9,100 worshiping communities across the 50 states and in the Caribbean region. Known as the church of "God's work. Our hands.," the ELCA emphasizes the saving grace of God through faith in Jesus Christ, unity among Christians and service in the world. The ELCA's roots are in the writings of the German church reformer Martin Luther.
###
Media Contact
Sawyer Vanden Heuvel
Director of Communications
svandenheuvel@sdsynod.org
605-274-5035