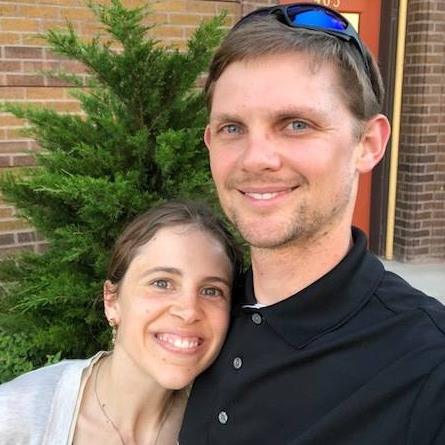 40 Day Journey with Our Neighbors in Solidarity
Week 6: Lutheran Campus Ministry (LuMin)
Written By: Pastor Ben Eisele – USD Luther Center 
Scripture: 
Then [Pilot] handed [Jesus] over to them to be crucified. So they took Jesus; and carrying the cross by himself, he went out to what is called The Place of the Skull, which in Hebrew is called Golgotha. There they crucified him… When Jesus had received the wine, he said, "It is finished." Then he bowed his head and gave up his spirit. (John 19:16-18, 30 NRSV)
Devotion:
Have you prayed the Lord's prayer in a virtual meeting? Like, on Zoom (or Google Meet, or Skype, or…?) Have you prayed it together with people who are unmuted? Have you tried to lead it?
It echoes like hell.
From "Our Father," to "thy will be done," through "Amen," voices overlap and the prayer rolls over itself.
The first time I led the Lord's Prayer virtually, it surprised me. I had to focus on the words harder than I have in a good while. Immediately after "Amen," I wrote "IT ECHOES" on a post-it note in block letters and stuck it to my computer.
The full but chaotic echoes of praying in "unison" online stood in contrast to other empty and quiet echoing places. Echoes happen more easily in big empty spaces, after all. And there have been some big, empty spaces this past year. Like our empty sanctuaries, campus ministry centers, offices, and classrooms.
Jesus experiences a big empty space on Good Friday. After the hustle of arrest, trial, and crowds, he finds himself up on cross, in mostly empty space. The constant contact of his disciples and press of the people are gone. The only touch he gets are nails, some vinegar on a stick, and a spear tip. His words – "It is finished" – don't get a reaction from anyone. They echo (or just die) in empty space.
It sure as hell looks like the world has muted the Lord. Violently.
But echoes always follow a delay, and the cross is gonna echo like hell.
It echoes as hell will soon echo "in an uproar," as John Chrysostom says, when "[Hell] took a body and discovered God." When the quiet of "thy will be done" becomes "kingdom, power, and glory, Amen," echoing forever.
But Friday is first. We have to get through the chaos of Friday, the abandonment at the cross, and the emptiness around it. But sit tight.
The emptiness and abandonment of the cross are, after all, precursors of another empty, echoing space to come.
Prayer:
Lord, remember us in your kingdom and teach us to pray:
Our Father, who art in heaven, hallowed be thy name.
Thy kingdom come, thy will be done, on earth as it is in heaven.
Give us this day our daily bread,
and forgive us our trespasses, as we forgive those who trespass against us.
And lead us not into temptation,
but deliver us from evil.
For thine is the kingdom, the power, and the glory, forever and ever.
Amen.
Question:
What has left you feeling empty? What fills you with hope? What "echoes" in your heart, and your mind?
Practice:
Listen for silence, and for echoes. Find an empty space, if you can. Pray the Lord's Prayer, and listen to it echo, even just a little. Consider just how much and how far back that prayer echoes.