Spring Theological Retreat with Dr. Gary Simpson
Missional Congregations and God's Calling as Public Companions in Global Civil Society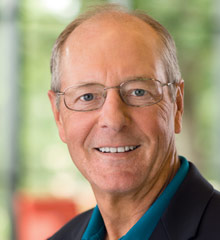 Gary Simpson was named associate professor of systematic theology at Luther Seminary in 1990 and professor of systematic theology in 1998. Earlier, he served as a Lutheran pastor for 14 years. Simpson was pastor of Immanuel Lutheran Church, Alameda, Calif., (1976-1983) and Protestant chaplain of Highland-Alameda County Hospital in Oakland, Calif., (1976 to 1978). Subsequently, he was minister of education and youth at St. Charles (Mo.) Christian Church (1981-83) and pastor of Resurrection Lutheran Church in Portland, Ore. (1983-90).
During his years in Portland, he was adjunct teacher for Warner Pacific College as well as Pacific Lutheran Theological Seminary in Berkeley, Calif., and the Lutheran Institute for Theological Education in Tacoma, Wash.
Simpson also served Ecumenical Ministries of Oregon as a member of its board and chaired its witness and life commission. He chaired the Jewish-Christian Association of Oregon, was vice president of the Oregon Holocaust Resource Center, and was on the board of directors of the Oregon chapter of the National Conference of Christians and Jews. Simpson also served as the moderator of the board of Snowcap Church-Community Action Program (Portland, Ore.) and chaired the Oregon Governor's Task Force on Hunger.
He is a member of the American Academy of Religion and on the Society of Christian Ethics. He serves on the editorial board of dialog: A Journal of Theology.
He received the B.A. degree from Concordia Senior College, Fort Wayne, Ind., in 1972. He earned both the M.Div. and the Th.D. degrees at Christ Seminary-Seminex, St. Louis, Mo. (1976 and 1983).
---
Fees
$110 for Rostered Ministers and Lay Professionals
$80 for retired Rostered Ministers and Seminarians
$30 for spouse attending banquet only
$10 late fee after March 27, 2020
Lodging
Arrowwood at Cedar Shore
1500 Shoreline Drive
Chamberlain, SD 57325
Block of Rooms under "SD Synod"
$89.95 plus tax for a standard queen
Reserve Rooms by March 13, 2020 by calling 605-734-6376
Each person is responsible for booking their own lodging.
---
This year's retreat is hosted by the Prairie Rivers Conference. 
Schedule (*subject to change)
Tuesday, April 14 (at St. Joseph School 1301 N. Main Street, Chamberlain)
*Dinner on your own before arrival
6:00 PM – Registration at St. Joseph School
6:30 PM – Session 1
7:45 PM – Evening Devotions
8:30 PM – Casual Gathering at Arrowwood
Wednesday, April 15 (at Arrowwood 1500 Shoreline Drive, Chamberlain)
8:00 AM – Registration and Breakfast Items Available
9:00 AM  – Session 2 and 3
11:45 AM  – Bishop's Talk
Free time Until 5:30 PM 
5:30 PM – Social at Arrowwood
6:30 PM – Banquet
Thursday, April 16 (at Trinity Lutheran, 902 S. Main Street, Chamberlain)
9:00 AM  – Session 4
9:45 AM – Brunch
10:30 AM  – Worship with Holy Communion
Free time activities available: South Dakota Hall of Fame, Lakota Museum, Dignity, Quilt and Antique Stores, Walking Path.
Spring Theological Retreat


04/14/2020 - 04/16/2020




6:00 PM - 12:00 PM