Reformation Tour 2017 with Bishop David Zellmer
By South Dakota Synod | Posted 9/19/16 at 4:25pm |
Category: Synod News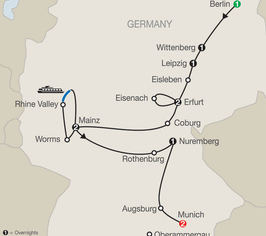 Join Bishop Zellmer to celebrate the 500th Anniversary of the Lutheran Reformation as he escorts you through the foot steps of Martin Luther on this once in a lifetime Reformation Tour of Germany.
You'll overnight in Berlin, Wittenberg, Leipzig, Erfurt, Mainz, Nuremberg, and Munich, and you'll visit Eisleben, Eisenach, Coburg, Worms, Rothenburg, Augsburg, and the Rhine Valley along the way.
The Reformation Tour is September 8 – 19, 2017. This tour is hosted through Touring International.
This trip has been cancelled.