2018 Synod Assembly
By South Dakota Synod | Posted 11/14/17 at 4:02pm |
Category: Synod News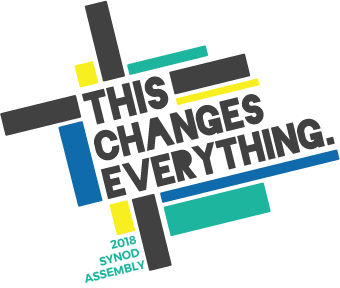 May 31 – June 2, 2018
Our Savior's Lutheran Church
Sioux Falls, SD
Theme: This Changes Everything.
Theme Verse: "For by grace you have been saved through faith, and this is not your own doing; it is the gift of God." –  Ephesians 2:8
"God always takes the initiative in forgiving and recreating us." (Lutheran Study Bible p. 1923)
Offering: The synod council has authorized assembly offering to go to the Pine Ridge Retreat Center (80%) and to Church on the Street (20%).
---
Registration
Registration deadline May 21, 2018 at 5 PM Central Time.
Online Registration is now closed. To register, please contact Assembly Registrar, Lois Borchardt at 605-274-4025.
Late payment of $50 will be applied per person after the deadline.
Synod Assembly registration fee is non-refundable, however substitution is allowable.
Costs:
Voting Member ($140)
Displayer ($100)
Visitor ($65)
Intern ($65)
On Leave From Call ($65)
Displayer/Voting Member ($195)
Non-Voting Retired Clergy ($0)
Synod Council Voting Member ($0)
Late Fee ($50) after May 21, 2018 5 PM CT
Click here for the voting member delegation chart from the Synod Constitution.
---
Synod Assembly Guidebook
Synod Assembly materials can be accessed and downloaded online through the free Guidebook app. Voting Members will not receive a printed packet during registration. Get the guide to access the most up-to-date information about our event, including schedules, maps, and much more.
Get our guide here: https://guidebook.com/g/sdsynod18
Android and iOS users:
Tap the "Download" button to download the free Guidebook app
Open Guidebook and you can find our "

2018 South Dakota Synod Assembly

" guide
Windows and Mac OS Users:
You can access Guidebook through your desktop browser by clicking here.
Preliminary Report
---
---
Guest Speaker – Churchwide Representative
Victoria Flood serves as Director for Mission Support in the churchwide expression of the Evangelical Lutheran Church in America (ELCA). Learning more about the ministries of our church through visits in synods and with congregations is one of Victoria's greatest joys in this position. She is often heard saying, "Mission Support is rooted in our faith and our relationships. It is one of the most tangible ways that all of us in the ELCA demonstrate we are church together for the sake of the world." Victoria began serving in this position in March 2016. Prior to that, Victoria served 15 years in the churchwide expression of the ELCA as part of the team in Research and Evaluation. Prior to serving in the ELCA, Victoria worked nearly seven years in Wisconsin state government. Victoria earned a Master's degree in Public Administration and Public Policy from the University of Wisconsin-Madison and a Bachelor's degree in Humanities and Political Science from Valparaiso University. She and her husband, Rod Boriack, live in Des Plaines, IL. They are proud parents and grandparents to 2 children – Katy (Christian); Jon (Brooke); 1 grandchild, Ayden, and one grandchild on the way. Victoria and Rod are members of Trinity Lutheran in Des Plaines.
---
Guest Musicians
Tangled Blue will be making there way back to South Dakota once again this summer. Making music together since 2003, Joel and Aimee Pakan have shared their music in congregations, festivals, and youth gatherings around the globe. You may have met them in previous years or out at Outlaw Ranch in the Black Hills. Currently both Joel and Aimee are Fund for Leaders Scholarship recipients studying at United Lutheran Seminary in Philadelphia.
---
Pre-Assembly Events
6:00 PM – 7:00 PM – Assembly Workshops at Our Savior's
Church Security and ALICE Training with Church Mutual
Running Effective Church Council Meetings
Youth Gathering Check-In with Gathering Synod Coordinator – Suzanne Hansen & Mara Stillson of Lutherans Outdoors
7:30 PM – 9:00 PM – Beer & Hymns with Tangled Blue at Remedy Brewery
Join us for a casual evening at Remedy Brewery in downtown Sioux Falls for a beer and hymns style concert with Tangled Blue. All are welcome. Sponsored by Church Mutual.
Remedy Brewery is at:
401 E 8th St #120
Sioux Falls, SD 57103
---
Overview of Schedule
Thursday, May 31
2:00 – 4:00 PM – Display Setup
4:00 – 6:00 PM – Early Registration
6:00 – 7:00 PM – Assembly Workshops
7:30 – 9:00 PM – Beer and Hymns with Tangled Blue – Remedy Brewing Company – Downtown Sioux Falls
Friday June 1
8:00 – 9:00 AM – Registration & Check In
8:30 AM – New Member Voting Orientation
8:45 AM – Elections Committee
9:15 – 10:30 AM – OPENING WORSHIP WITH HOLY COMMUNION & FIRST PLENARY SESSION
10:30 AM – OPENING OF ASSEMBLY
11:30 AM – 12:30 PM – LUNCH & CONFERENCE CAUCUSES
12:30 – 2:15 PM – Second Plenary Session
2:15 – 3:00 PM – BREAK
3:00 PM – Third Plenary Session
4:30 PM – Breakout Sessions
5:30 PM – 7:30 PM – Evening Meal and Celebration
Saturday, June 2
7:00 – 8:00 AM – Mission Prayer Breakfast
8:15 – 9:30 AM – MORNING WORSHIP WITH HOLY COMMUNION
9:30 AM – Lutherans Outdoors Annual Meeting & 50th Anniversary Celebration
11:00 – 1:00 PM – Fourth Plenary Session
Closing of Assembly
Lunch to Go
---
Synod Assembly Youth Lock-In
Congregations are encouraged and invited to send their youth to the synod assembly this year as a voting member. Like last year, the synod will host a lock-in for all youth members that participate in assembly. There will be activities, service projects, and conversations related to social justice and vocation. Youth that are interested in attending would need to register above as either a Youth Voting Member or Youth Visitor (status determined by congregation). The lock-in starts Friday morning and ends at the close of Assembly on Saturday.
At the morning worship on Saturday, June 2, we will be doing a blessing for youth and adult leaders traveling to Houston for the ELCA Youth Gathering. All are welcome to attend worship.
Questions? Contact Pastor Sami Johnson (Our Savior's, Sioux Falls) or Kelsey Lyndoe (Peace, Sioux Falls)
---
Lodging
The synod does not coordinate lodging for voting members and visitors of the assembly. For a list of hotels in the Sioux Falls area, click here.
---
Planning Team:
Sawyer Vanden Heuvel, Synod Staff and Assembly Planning Chair
Kelsey Lyndoe
Dustin Peterson
Rev. Samantha Johnson
Rev. Eric Ohrtman
Rev. Trey Daum
Janiece Peterson (Our Savior's Liaison)
Synod Staff